Hollywood MicroDolly for rent at Film Equipment Hire
The portable Hollywood MicroDolly for rent at Film Equipment Hire is a Camera Dolly and Dolly Track System is purpose built for crews that must travel light and set up quick. It weighs only 10 pounds (4.5 kg) and fits into a Soft Case only 34 inches (86 cm) long.
The Track is spring loaded and snaps together as it is unfolded. The Dolly with 13 feet (4 m) of straight track and 13 feet of curved track, can be set up in less than two minutes and will carry a video camera or film camera weighing up to 100 pounds (45 kg). Silent, smooth, bump free camera moves can be accomplished much quicker than with conventional dollies and dolly equipment.
This is the most popular portable dolly system in the United States and now available in Ireland..
MICRODOLLY CAMERA DOLLY PRODUCT DEMO from MICRODOLLY HOLLYWOOD on Vimeo.
Curve Track Kit (Tutorial) from MICRODOLLY HOLLYWOOD on Vimeo.
In 1995 an award winning Producer/Director retired after forty years. During his career he had worked on productions in some twenty-five countries. No matter the budget, every project had a common problem, a need for lighter and more portable camera support equipment. He formed MICRODOLLY HOLLYWOOD to meet this need. Using aerospace design and manufacturing methods, a unique line of Camera Jibs, Dollies, and Mounts were crafted and quickly became the industry standard for crews who needed to travel.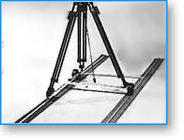 The company's first product was the MICRODOLLY CAMERA DOLLY SYSTEM. The Dolly with thirteen feet (4m) of track weighs only ten pounds (4.5 kg) but will support ten times its own weight. This patented system can easily carry a standard professional video or film camera and provides smooth, bump free dolly moves even on rough location surfaces. Surprisingly, it folds to just thirty inches (76 cm). Average set up time, including the spring-loaded track, is less than two minutes. Any amount of curved or straight track can be easily attached.
Hollywood MicroDolly for rent at Film Equipment Hire